There is a large selection of papers and blocks for watercolor painting: But which watercolor paper is really recommended now? What is important when choosing? Here I have put together some tips for you to make your decision easier.
Which watercolor paper is good now?
If you are still relatively new to experimenting with watercolors or if you are just starting out with watercolor painting, you may feel overwhelmed with the selection of papers and pads:
Which paper is best for watercolor painting?

What are the differences between the individual types of paper?

Which is better – rough or dull?

And which format is the right one?

Is the more expensive painting pad really the better one?
Let's take a look together to see what matters when choosing:
Watercolor paper: especially important – the paper thickness
If you had to base your paper selection on just one criterion, I would recommend that you decide based on the paper thickness. In my opinion, nothing is a more important quality feature than the strength and stability of the watercolor paper.
Inexpensive watercolor paper is already available with a weight of less than 100 g / m². You won't be able to enjoy this for long, however: The paper curls quickly and can usually only be straightened with a lot of effort (and the courageous use of book presses or irons …) even after painting.
Due to the waves in the paper, your colors may not be as evenly distributed as desired on the paper, but small puddles and puddles of water arise. Or you erase your pencil sketch too much – and there is a bad hole in the paper!
There is nothing that is more frustrating than when your paper doesn't want to be the way you do!
Therefore my recommendation:
Use a good paper thickness for watercolor paper.
I advise you to use at least 200 grams of watercolor paper. Personally, I even work exclusively on pads and paper that are at least 250 g, better still 300 g, of thickness .
Absolutely nothing curls up while painting – and it is a pure pleasure to paint on such sturdy paper! You can really let off steam with lots of water and many layers of paint. ?
Even if you want to combine your watercolors with other materials, you will do well with strong watercolor paper. In short: you are more flexible with your painting techniques and you are guaranteed to have more fun while painting!

Watercolor paper: rough or matt?
You have probably already seen that watercolor paper is not only available in different thicknesses and formats, but also in different grain sizes. There is watercolor paper that is marked as "rough" and that which is described as "smooth" or "matt".
The individual types of paper have different properties in terms of luminosity, transparency and fluidity of the colors.
Where are the differences?
Watercolor paper smooth, satined
Watercolor paper with a smooth, satined surface feels very fine and even . On this paper, watercolors come into their own in a particularly radiant and brilliant way. It is also easier to remove colors from this type of paper. The creation of transparent layers of paint is also very easy here.
However, when it comes to working particularly wet and applying very watery layers of paint or working "wet on wet", this watercolor paper is less suitable.
Matte watercolor paper
I can particularly recommend the watercolor paper in matte to beginners, as the colors can be controlled very well in the flow and the brushwork is particularly easy. Both wet and drier layers of paint can be easily applied here. The surface is pleasantly fine and delicate, light motifs also come into their own here.
Watercolor paper rough
With watercolor paper with a rough surface, the structure of the paper comes into its own. That can be a nice effect and play into the effect of a picture. Watercolors often look even more plastic here. The rough watercolor paper is ideal for wet paint applications and the "wet on wet" technique.
Which type of paper is better now depends on how you would like to paint and what you feel most comfortable with.
While some creative people also like it when the structures of the paper can be seen, other artists love the fine feel of a smooth or matte surface.
Just a little tip: If you intend to use your watercolor pictures to make prints and print items, I would use matt or smooth watercolor paper. That makes it easier to prepare your pictures digitally for printing.
So which watercolor paper? Just try!
If you have little or no experience with watercolor painting, I recommend that you simply test different types of paper and different grain sizes for yourself.
What feels better

What do you get on better with?

What kind of paper are you most comfortable with?
No guide can replace the practical test. ?
By the way, there are also individual papers to buy in specialist shops so that you don't have to buy several expensive coloring pads to try out different papers.
By the way, there we come to the next question:
Single watercolor paper or glued pad?
You can buy watercolor paper in the form of individual papers or classic painting pads. As a beginner, I recommend a block because it is easier to use here.
But there are also differences between the blocks: with some blocks the papers are only glued together at the top or on one side, with other blocks all sides are glued all around.
In any case, I advise you to use a block with completely glued sides :
This also helps to ensure that your paper does not curl while painting and remains nice and stable and smooth.
You also paint directly on the block without affecting the underlying paper with paint.
How do you remove watercolor paper from the pad?
When your watercolor is dry, you can carefully peel the picture off the pad.
At the beginning I looked in vain for a way to get the paper off the glued block. ?
So that you don't search in vain: There is always a corner on the block that is NOT glued. At first glance, this is not obvious – but this corner really does exist. ?
At this corner you carefully go under the paper with a ruler or a letter opener (or professionally with a folder *) and then carefully peel it off from the pad.
Watercolor paper: which format is the right one?
Watercolor paper is available in a wide variety of formats – from a small block of postcards to large-format single sheets of paper in meter format.
If you are just starting out with watercolors, I advise you to choose a medium-sized format (e.g. 30 x 40 cm) that offers enough space to experiment with the colors and does not restrict you too much.
But at the same time choose a format that you still feel comfortable with and that doesn't seem so overpowering to you. Otherwise, this in turn can lead to the fact that you do not even dare to approach your paper and then become totally inhibited in painting.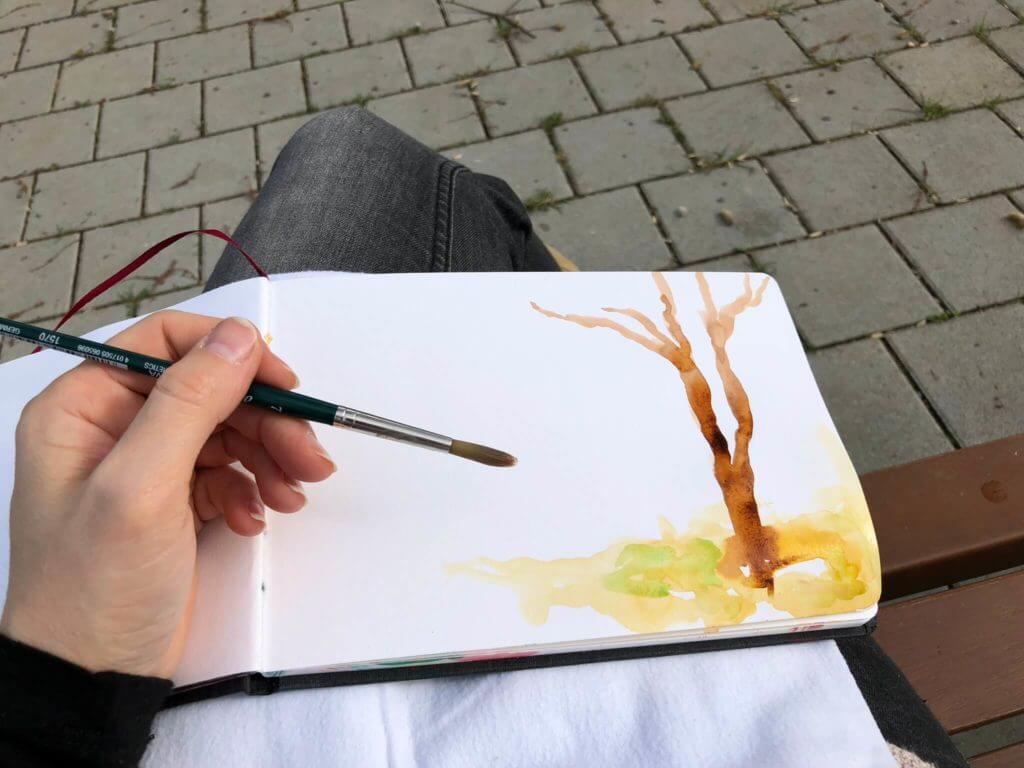 If you have found pleasure in watercolor painting, I advise you to make a small selection: Keep larger and smaller formats ready so that you can always pick up what feels really good at the moment. That can vary totally depending on the mood of the day.
Perhaps you already have experience in other painting techniques:
How do you describe your painting style?
Rather lively and broad-based – or are you someone who keeps things small and manageable and likes to get lost in details?
You can also use this to determine which format suits you best.
If you want to keep all options open to yourself – select individual larger sheets of paper to start with and simply cut them to size if necessary. If you don't shy away from the effort of cutting, you will also save money compared to the "finished" blocks.
Which brand of watercolor paper is good?
Here too, opinions differ. Personally, I LOVE Hahnemühle's watercolor pads . These are among the more expensive blocks, but they are definitely worth the money.
They make the watercolors really shine and also absorb the colors really well. Hahnemühle papers are also hard-wearing – they do not curl and can withstand multiple layers of paint, mixed media techniques and repeated erasures without any problems. ?
My favorite is the Hahnemühle Britannia matt 300 g watercolor pad . *
I actually use that the most. But I always like to experiment with new material.
Speaking of mixed media: If you like to combine different materials, I advise you to use special mixed media blocks . * You can experiment with watercolor as well as acrylic paints, chalks or other colors. The papers are suitable for a wide variety of techniques – including collages, by the way.
The same applies here: Above all, rely on a good paper thickness !
I hope I was able to make your decision for the right watercolor paper a little easier!
And if you are looking for inspiration what you could conjure up on your watercolor paper: Then take a look at my Happy Painting courses ! I'm happy for you!
Happy painting!